E3 may dead, but that doesn't mean that summer game announcements have joined it. During Sony's PlayStation Showcase livestream earlier today, the company confirmed rumors that it was working on a new handheld, but instead of being a follow-up to 2011's PlayStation Vita, the device will be more in line with devices like the Logitech G Cloud and Razer Edge, which focus on game streaming.
Jim Ryan, the CEO and President of Sony Interactive Entertainment, revealed our first look at the device today, which still doesn't have an official name yet, but is known internally at Sony as Project Q. Details on the handheld's capabilities, specs, and performance aren't known, but Ryan confirmed it will feature a huge, eight-inch HD screen that sits between what appears to be a bifurcated PlayStation 5 controller. Importantly, it will include all of the buttons and features of the DualSense wireless controller.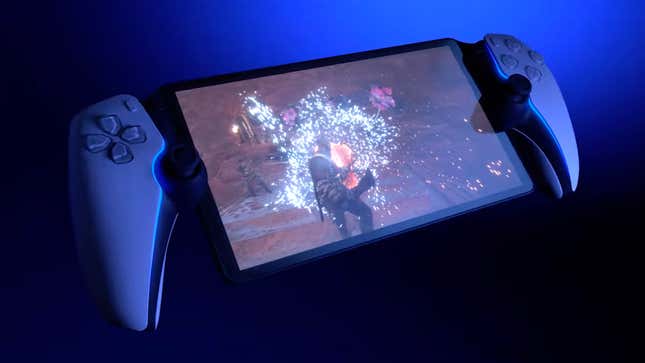 What Project Q won't be is a next-generation version of the PS Vita, or even a standalone portable console designed to compete with either the Steam Deck or the Nintendo Switch. Instead, it's a handheld exclusively designed to be used for PS Remote Play over a wifi connection, requiring games to be installed on the PS5—excluding VR titles.
Sony also wasn't in a position to share any details on what Project Q might cost, but given it's designed to be an accessory for the $400+ PS5, we're hoping it will be considerably cheaper than other game streaming handhelds. So far, these weaker devices haven't made a strong case for consumers to choose them over Valve's Steam Deck, which is also compatible with PS Remote Play via a third party client. Sony promises more details on Project Q will be revealed in the near future, and availability is expected sometime later this year.
---
Want more of Gizmodo's consumer electronics picks? Check out our guides to the best phones, best laptops, best cameras, best televisions, best printers, and best tablets. If you want to learn about the next big thing, see our guide to everything we know about the iPhone 15. Click here to save on the best deals of the day, courtesy of our friends at The Inventory.
Source link