It only ran for two and a half seasons from 1981 to 1983, but The Greatest American Hero—starring William Katt as an unassuming teacher who receives a super-powered suit from aliens, then promptly loses the instructions—has left an indelible mark on pop culture. You probably already have the theme song stuck in your head ("Believe it or not, I'm walking on air…") after just reading the headline on this post.
Chris Pratt and Bryce Dallas Howard Nerd Out About Jurassic Park's Returning Heroes
Why has The Greatest American Hero, which co-starred Robert Culp as reluctant hero Ralph's FBI liason, Bill, and Connie Sellecca as Ralph's girlfriend and lawyer, Pam—become such an enduring favorite? The Greatest American Hero Companion, a just-released book by Patrick Jankiewicz, digs into the ABC sci-fi comedy with great enthusiasm, profiling the creative team involved, exploring individual episodes as well as the show's broader impact, and surfacing random trivia that may surprise even longstanding fans of the series. It features a foreword by series star Katt; io9 gets a shout-out thanks to our 2018 roundup of the show's "most ridiculous" episodes— which we wrote when we learned the reboot starring Hannah Simone wasn't getting picked up—so it's no secret we're fans of Ralph's misadventures. We hopped on video chat with Jankiewicz to learn more.
"[Creator Stephen J.] Cannell had some huge hits [like The Rockford Files, The A-Team, and 21 Jump Street], but this is [now] the most popular of all his shows," the author said. "Even he couldn't figure it out—this is the best-selling on DVD and Blu-ray. You have to hit five seasons to go into syndication, and this show didn't even come close. It's his only full-on genre show, the only sci-fi superhero type show he ever did, and he wasn't used to all the clichés. The network asked him to do a superhero show, and once he did it, he made it [in his own style], like his other shows. It's a show about personal responsibility, which I think is very funny."
Jankiewicz, who has also published "companion" books on The Incredible Hulk and Buck Rogers in the 25th Century, found his next subject by accident, though it's clearly in his wheelhouse. "It was when covid hit. It was a Saturday morning, I was drinking coffee with my brother, flipping through the channels, and we came across an episode of the series," Jankiewicz recalled. "It was from the first season, a great episode called 'The Best Desk Scenario,' which was based on a real murderer of a real reporter, and it was really well-written. Cannell's shows are very, very big on character. [With The Greatest American Hero], they were attempting to do The Rockford Files with a superhero. It's a Marvel Comics version of Rockford Files. The hero is good-hearted, but nobody really knows it; everybody misjudges him. Rockford is a character—you like him, you like his life, you find him interesting. And it just so happens he's a detective. It's the same thing here: Ralph just happens to be a superhero. But you like the character, you like his friends, and you like the situation. I had forgotten what a charming, funny show it was!"
The Greatest American Hero – Season 1, Episode 1 – Full Episode
It's hard to pick a favorite episode among The Greatest American Hero's 45 total, but Jankiewicz thinks one in particular stands out. "I love the pilot. I think the pilot is really, really smart; you spend about 30 minutes getting to know Ralph as a character before the aliens and everything else happens. The show is very personality-driven, and since you like the characters, you care about what happens to them," Jankiewicz said. However, he also admitted to liking the goofier, more supernatural direction the series took in its later episodes. "I love when the show embraces the genre; one week he's fighting a biker gang, another week is ninjas, a ghost, aliens. I think that's the best part, where you don't know who you're going to run into week in, week out."
As Jankiewicz points out, Ralph was an unique character on TV—and across the landscape of superhero-centric entertainment—back in 1981. "One of the interesting ideas in the show is he's relentlessly dumped on. Even with the suit on, people don't appreciate him. People look down on him. The whole show is kind of fanfare for the common man. He's got this suit and it doesn't improve his life one bit. It makes it worse! It's very charming, but there's a cynical edge to the show," the author said. "It broke the rules in the superhero genre before there were even rules set. You have to remember when the show came on, there were no live action superheroes going on. The Incredible Hulk was on its way out. Buck Rogers was about to be canceled. Superheroes had gone to the movies. The year the show debuted was when we got the first Indiana Jones, and [in 1982 we got] the second Christopher Reeve Superman. So there were no real superhero rules. If you look at the Greg Berlanti shows—Arrow, Supergirl, The Flash—it's all about the team surrounding the hero. That [was never part of the] genre until it was established by Stephen J. Cannell. Pam and Bill are his team. They know everything Ralph knows. That was a huge difference from every superhero that came before."
As fans will recall, a reboot—which would've replaced the Ralph character with a tequila-loving Indian American woman named Meera—very nearly made it to the airwaves a few years ago, but wasn't picked up by ABC. "I will be honest. I tried and tried to get a look, and they wouldn't even cough up a script for it. William Katt hasn't even seen it," Jankiewicz said. But he hasn't given up hope that The Greatest American Hero will fly again someday. "I have a feeling that Cannell's daughter Tawnia [McKiernan, a veteran TV producer and director] is going to make it into a movie. It'll be huge, especially with the Marvel formula, where people are ready for snarky, funny… the whole show is about there are no idealists anymore. Ralph is the only idealist on the show. Bill and Pam are cynical and I mean, they'll help him, but they think it's tilting at windmills. The whole show is an idealist surrounded by pessimists and they're trying to save the world. I think there's room for that. When [Phil] Lord and [Chris] Miller couldn't get it going, two of the most creative—you saw what they did with Jump Street. The studio should have gotten down on their knees and begged them to do this. They should have just given these guys carte blanche, but they didn't. By the time they wanted to get the property back to them, they had just won the Oscar for Spider-Man: Into the Spider-Verse … The terrible thing is, they got Cannell. If you look at [the Jump Street movies], they celebrate all the cheesiness of a Cannell show, then they embrace it and play it up and it's just, this should be the easiest [decision]."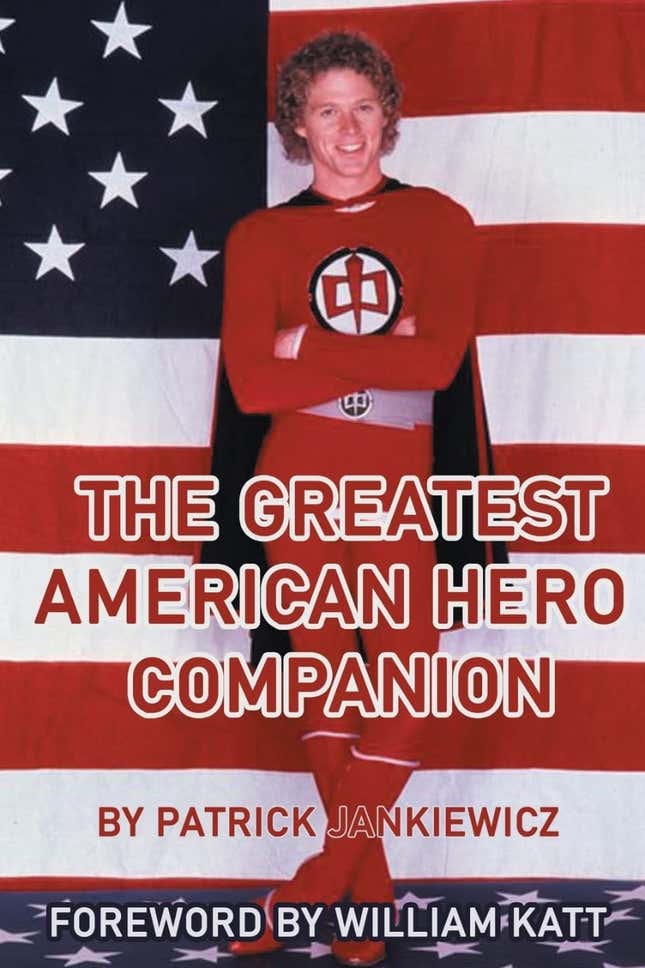 You cannot end any discussion of The Greatest American Hero without talking about maybe its greatest and most relentless superpower: its theme song, which once heard will linger in your brain for an unsettling amount of time. "My sister called me when I was writing the book—she was editing it for me—and she goes, 'Dammit, I can't get that song out of my head.' And then she said she and her family were watching Free Guy with Ryan Reynolds [which used the Greatest American Hero song], and she couldn't stop humming the theme song for the rest of the week," Jankiewicz laughed. "But to me, that theme song has kept the show alive. That song will never, ever go away. It's been used as a cultural touchstone by other genre shows, not just Seinfeld. The theme song was in the top 10 longer than the Friends theme, which ran for 10 years. I mean, it blows my mind—it was battling 'Bette Davis Eyes' for the number one song of the year!"
The Greatest American Hero is widely available on streaming (including Peacock, Prime Video's Freevee, and YouTube); you can pick up a copy of The Greatest American Hero Companion here.
---
Want more io9 news? Check out when to expect the latest Marvel, Star Wars, and Star Trek releases, what's next for the DC Universe on film and TV, and everything you need to know about the future of Doctor Who.
Source link